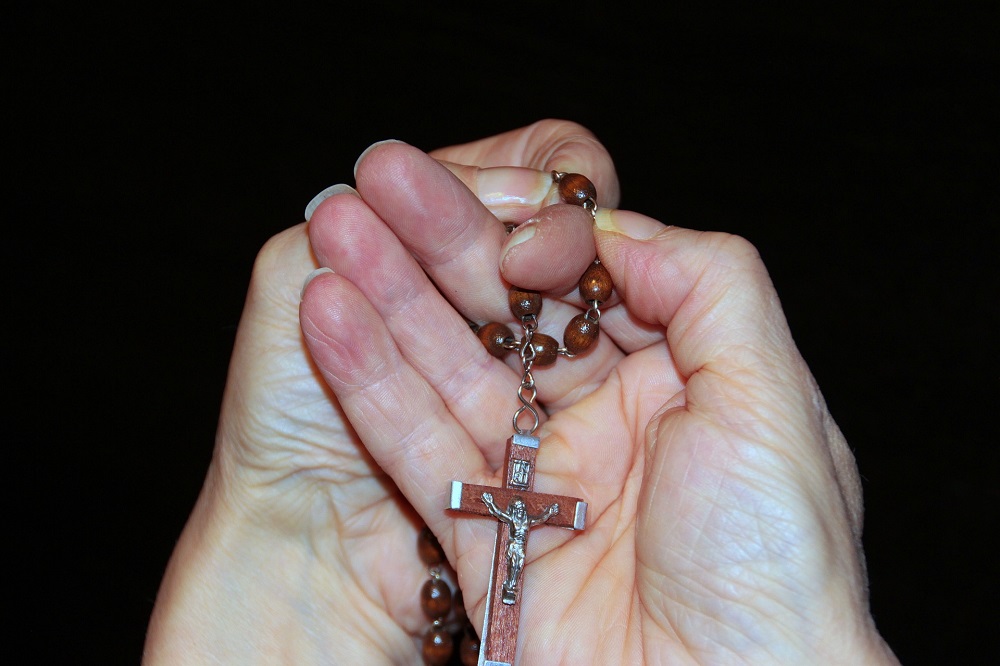 The 1st Papal March will set off from Warsaw Rondo Dmowskiego (Metro Centrum) at 11.00 on Sunday, April 2. Schuman groups will be at the start around 10.15. Armed with rosaries, they will recite the Glorious Mystery during the March. "As St. Louis de Montfort said, even the devils in hell have respect for Mary" – explains Prof. Zbigniew Krysiak, founder and chairman of the Program Board of the Institute of Schuman's Thought.
"The initiative of the March is very important, but it cannot only have an external dimension, a manifestation of the community that stands behind the values that John Paul II spoke about" – says in an interview with AWPE prof. Zbigniew Krysiak, emphasizing that "the march itself builds a community – the gathering of people always causes a certain strength".
"John Paul II called to sail out to depth, to go deeper. Without this foundation of leaning on Christ, which is the rosary, about which the Mother of God in various apparitions in Fatima says that this is the foundation, we are powerless against personal evil. It is not with human strength, but with the strength of God, the strength of Christ, that one can overpower these attacks of the devil, who enters man in various ways and in various forms draws him to oppose the good" – he notes.
"After all, John Paul II said: 'Stay awaked'. Like Jesus in Gethsemane – we have Lent – he prays before his death on the cross, he comes to the disciples and says: "Do not sleep, stay awaked, pray". God who is also Man needed to pray to God, to the Father – this shows us that we need this prayer all the more to strengthen ourselves in our actions at the front, above all, so that we ourselves do not give in to hatred, so that we overcome evil with good, as John Paul II said" – he explains, emphasizing that "as St. Louis de Montfort said, even the devils in hell have respect for Mary. Through the humility of prayer, in silence she was and is a strong personality who removes evil from the horizon."
Prof. Krysiak recalls the prophecy spoken after the war by Cardinal August Hlond, who said that Poland will win not with weapons, not militarily, not economically, but with the rosary. "The rosary appears here as a key issue. There is one condition – you have to be active, pray. The rosary is supposed to give you strength to act, you cannot be passive. Cardinal Hlond reminded us of this. We also remember John Paul II, who even during his pilgrimages never left the rosary. There is some extraordinary strength in this, which God, as it were, lent to people. Since our faith is based on the power of Christ, on the power of God, we cannot be ashamed of praying" – says the chairman of the Program Council of the Institute of Schuman's Thought. He also points out that "repeating the mysteries of the Rosary is filling the space of life, not only our hearts and souls, but the space around us – these words spread, emanate and overtake others". "No rosary prayer remains ineffective, it always bears fruit" – he concludes.
"Let the spirit of the rosary be key in this March. Let the community that will be built in this process be a testimony to others that this is not a manifestation that is supposed to arouse aggression or emotions, but also a prayer that the evil that functions, attacking John Paul II attacks us, our values, removed itself from this space so that it would not be a reason to build hatred" – he adds.
"This rosary is intended for all of us, including those attacking St. John Paul II, his teaching and the values he represented. They are also children of God. It is a difficult situation when you see that children of the same God can be in different states of aggression, but let's think about it. Someone once said: 'Let's not want to go to heaven alone'. Let's want everyone to go to heaven, including those who attack with hatred today. We must desire – this is our task and call – that salvation was shared by all. This march is to have such dimension and spirit" – appeals prof. Krysiak.
In his opinion, participation in this March can rebuild and deepen the entry into the values of John Paul II. "Maybe in this misfortune, in these bad circumstances, God gives us the opportunity to return, to immerse in the values preached by John Paul II, because it must be said honestly that we have moved away from it very much" – he notes, emphasizing that "this has be such a challenge for everyone, including us, to go deeper into this teaching and make it more practical, more applicable."
The Institute of Schuman's Thought encourages everyone to join the Papal March in the colors of the Schuman Groups. "The Papal March is a very important sign of support for our Pope, who has recently been mercilessly attacked, falsely accused of unjust things" – says Ryszard Krzyżkowski, president of the Institute of Schuman's Thought. "We want to gather together, walk this route together and make visible signs of our presence, and we invite you to carry our flags of the Schuman Groups, because Robert Schuman also defended Christian Europe. The common Europe he started to build was the same idea that St. John Paul II had" – he emphasizes, paying particular attention to the common values of both spiritual giants.
The originator of the Papal March is Małgorzata Żaryn, a journalist and author of books. As the organizers emphasize, the march is not a response to the campaign against John Paul II, but an invitation to the legacy of this great Pole.
Anna Wiejak