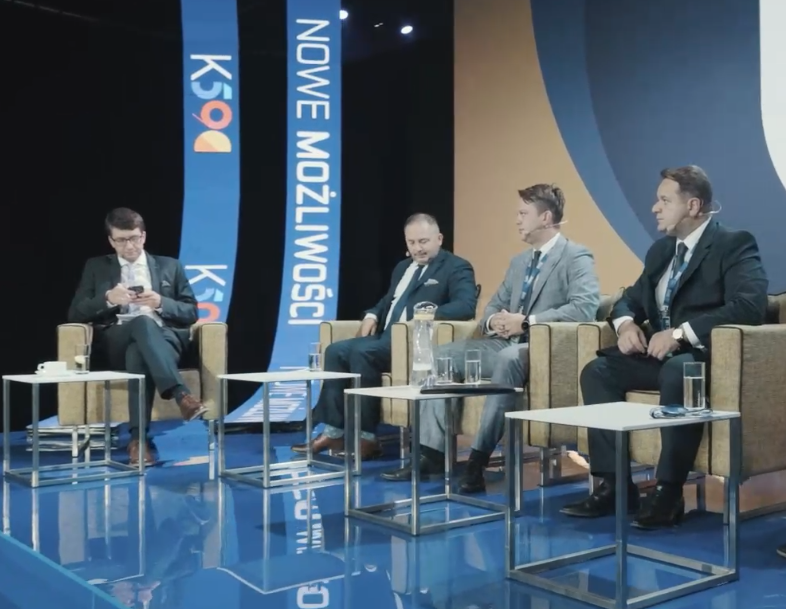 The 8th edition of Congress 590, which starts on June 21, will be full of interesting guests and discussions. During two days, many outstanding experts will meet on 4 stages and will focus on 10 thematic areas organized in the form of two international economic forums and 60 panels.
The Congress will be opened by President Andrzej Duda, and the official guests of the Congress will include, among others: General Sir Richard Shirreff, Deputy Supreme Allied Commander Europe; Chantal Delsol, professor of political philosophy and founder of the Hannah Arendt Institute; Bryan Caplan, professor of economics at George Mason University; Bjørn Lomborg, Danish scientist and environmentalist; Marlena Maląg, Minister of Family and Social Policy; Anna Moskwa, Minister of Climate and Environment; prof. Andrzej Zybertowicz and General Roman Polko.
Within two days, two economic forums will be held: the Poland-Saudi Arabia Economic Forum and the Poland-Czech Republic Economic Forum.
"The aim of the first one will be to tighten cooperation between Poland and Saudi Arabia in the energy, construction, agriculture and healthcare sectors" – says Wojciech Majewski, President of the Management Board of Congress 590. "The main assumptions of the forum are to continue the dialogue and identify areas where both parties will could develop mutually beneficial cooperation" – he adds.
During the debates of the Poland-Czech Republic Economic Forum, experts will talk about the development of cooperation in the digitization, health care and finance sectors. The Czech Republic, due to its geographical proximity, common European values and history as well as strong trade and investment exchange, is an important economic partner of Poland.
"The 590 Congress will also feature interesting panels, in which we managed to invite outstanding scientists" – Wojciech Majewski adds.
One of the debates will be "Sacrum and Profanum. Limits of relativism in time of war", the main theme of which will be the question of pushing moral boundaries, especially in times of war.
Leszek Kołakowski once said that "To push away the sacrum is to push back the boundaries that define a person". Meanwhile, at the turn of the 20th and 21st centuries, everything began to flow smoothly – so much so that there was even talk of a dictatorship of relativism. War changes all that; during it, reality turns black and white. So how does the conflict in Ukraine affect the shape of moral boundaries? The discussion will be attended by: Dr. Sebastian Morello, a philosopher from the University of Buckingham; Fr. prof. Jan Sochoń, poet, philosopher and literary critic; prof. Marek Cichocki, a philosopher from Collegium Civitas.
During another panel, the guests of the Congress will try to answer the question Is it worth having children? The topic of declining fertility is a common problem of many countries, including Poland.
In 1960, on average, one Polish woman gave birth to three children. Today – an average of 1.4 children. Parenthood began to appear as an obstacle to self-development, a limitation in building one's professional career and personal happiness. But is this assumption correct? It will be discussed by: Prof. Bryan Caplan, George Mason University economist and author of Selfish Reasons to Have More Children; Barbara Socha, Deputy Minister of Family and Social Policy; Michał Kot, director of the Generation Institute; prof. Michał Michalski, president of the Institute of Family and Society Knowledge.
"This year's debates of the 8th edition of Congress 590 are held under the slogan Spaces of freedom" – says Wojciech Majewski. "Therefore, a special discussion devoted to this issue could not be missing" – he explains.
The feeling of freedom is inextricably linked with space – understood both physically and metaphorically. "A free man will be free even in prison" – Plato said. Today, the space of freedom is shaped by the digital revolution, which is increasingly affecting the world around us. To what extent does it extend the freedom of each of us, and to what extent does it limit it? The views on this subject will be exchanged by prof. Chantal Delsol, philosopher, founder of the Research Institute of Hannah Arendt, director of European Studies in Paris; prof. Jacek Hołówka, philosopher of the University of Warsaw; Fr. prof. Waldemar Chrostowski, theologian, biblical scholar of the Committee of Theological Sciences of the Polish Academy of Sciences.
Another current and emotional topic is the green transformation, its costs and consequences. In the discussion on the European Green Deal, climate neutrality and the costs of this program, prof. Bjørn Lomborg, ecologist, director of the Copenhagen Consensus think tank will be talking with polish experts.
During Congress 590 there will be plenty of topics related to strategic security, economy, agriculture, defence, artificial intelligence and family.
The Strategic Partner of the 8th edition of Congress 590 is PKN Orlen.