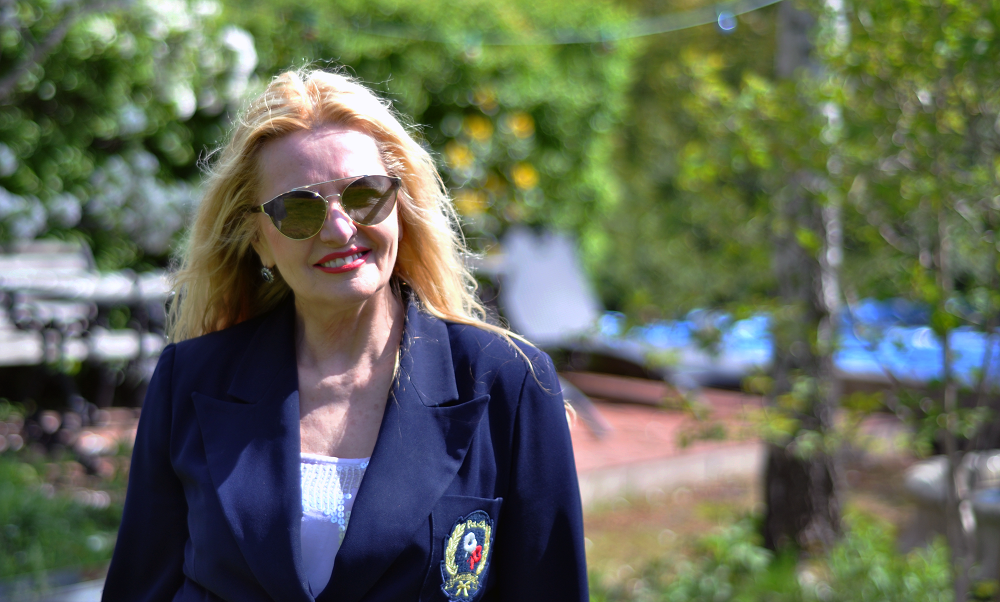 You have been professionally and personally active in Sweden for over 30 years, how has the Swedish perception of Polish enterprises and entrepreneurs changed?
Elizabeth Blania-Kacprzyk: Business is one of the most important aspects of promoting a good image of Poles and Poland. Having completed my studies in Sweden, I set up a company in the early 1980s. My first business steps began by becoming the second appointed official supplier of various products to Polish Baltic Shipping (export via Polish ferries arriving in Sweden). By the end of the 1980s, the Elizabeth B brand was established and continues to operate in other commercial segments on the Scandinavian market until today. Among other activities, my Elizabeth B women's collections have become a symbol of good taste and are recognized as a reliable source of quality and good design.
When it comes to my social activity, I am the originator, founder and president (+22 years) of the organization POLKA International – International Association of Polish Women, which celebrates its 23rd birthday this year. A more recent example of a patriotic initiative comes on the occasion of the 100th anniversary of Poland's regained independence; I founded a new sport-oriented organization – Polonia Run 1918 – World Federation of Independence Run. Additionally, in March 2022 I published the book "Polka International in the Lens of 20 Years", which within 360 pages and 1000 photos, documents the enormity of commitment and social work for Polish and Polonia.
Over the years, the perception of Polish enterprises by Swedes has changed a lot. At first our business activities were perceived with a bit of reservation. Over time, Polish entrepreneurs earned respect and became esteemed partners. For many years, Swedes have been eager to employ Poles and their companies – for example: in the services sector from medicine, IT to the construction industry. Today, a Polish businesspersons or employees are generally considered to be positive collaborators with a very high rate of resourcefulness and diligence. Of course, there are some exceptions that invite negative opinions, but where are there no such peculiarities?
To what extent has it been possible to overcome any negative stereotypes of a Pole with the help of business?
A key group in overcoming negative stereotypes of a Pole are the Polish technological diaspora. These are mostly young to middle-aged people who are very well educated and possess extensive experience in the industry gained in Poland. In many respects, they assess their expatriate life very well. When it comes to their identity, they feel both European and Polish simultaneously. They are noted specialists in their field: ambitious, intelligent, uncommonly capable and they attach great importance to detail; as well as the quality and effects of their work. They're reliable, hardworking and continuously improving their competencies.
Other professionals, such as Polish doctors, should be mentioned. They soundly break negative stereotypes of Poles in a very important way. Polish educated doctor's knowledge, training and skill are highly valued and regularly exceed their colleagues/counterparts. I can give a contemporary example of a Polish gynecologist from Malmö, who was awarded the title of "Best Doctor in Sweden" twice. Personally, I think that every such Polish contribution is a great opportunity for challenging, the often negative, stereotypical misconceptions attributed to Poles; especially when performed with full heart and devoted commitment.
Why do Swedes write so much about Poland in a negative context, and so little in a positive context? What can be done to change this?
Why? Firstly, we should look at what Poles say about themselves – specifically, what the present-day political opposition says and does in Poland and internationally – their double-talk and self-contradictions are scandalous and create confusion. This is the main spring in promoting a negative perception of Poland. Consider the alternative situation where the opposition primarily highlighted positive dimensions-opinions while constructively addressing differences, what would happen(?) – the world would be obliged to consider a more balanced message.
Still While, it is human nature to categorize (i.e. better/worse or inferior/superior and such)…in Sweden there is an additional peculiar element to this "human nature"…it is a thinking propagated early on in life that Sweden "is the best".
How can it be this negative view be changed? Dutifully, continue to transparently exhibit facts, and not fictions, concerning the current policies pursued and exceptional achievements by the current government – it is the best way to counter the fantastic distortions and baseless conjecture being offered by very special purpose groups that do not have the best interests of Poles or Poland as their priority – this is an undertaking and duty of all Poles and those of Polish heritage, wherever they may be.
It is still necessary to speak out loudly and frequently remind about the extraordinary Polish persons, movements and accomplishments that have undeniably and positively changed Europe and the world in the last +30 years …yes, the slogans "It's worth being a Pole" or "Proud to be Polish" or "Poland will get off its knees" ring true when we effort to extol the truth – not only to our global neighbors, but to each other too – it is high time to stop politely or quietly tolerating the prolific unfounded allegations about ourselves values and our background.
Can we say that Polish aid to fighting Ukraine has broken this barrier? How much has the perception of Polish changed in Sweden since February 24, 2022?
In every case, Polish aid for fighting Ukraine in an unprecedented way broke negative perceptions of Poland and Poles, as well as the Polish diaspora. Before February 2022, Poland was perceived as a country with a negative attitude towards refugees.
As mentioned earlier, there is much unflattery that breeds confusion as propagated by the opinions of the opposition in Poland and global "journalism" is not what it was earlier – today, as we all can see, the information we consume, depends on the ownership and their convictions – true reporters seem to rarely 'check the facts' themselves any longer – moreover, if they did so, they may longer be employed.
The German/EU "Wilkommen" was supposed to testify to Europe's openness. Poland was considered a freak in the heart of the EU as it demanded consideration of the way of thinking of its population and compliance with migration rules. It can absolutely be said and unequivocally stated that Polish aid for Ukraine has changed not only the perception but also reality about Poland – a reality that has advanced Poland as the new predominant center of the EU.
Today, Poland is one of the most active donor countries for Ukraine, both in helping residents and supplying military equipment. Poland is finally acknowledged as a sage and major player in Europe. It is thanks to Poland that there is a better recognition and understanding of the risk of losing freedom and democracy throughout Europe. Today, Ukraine is fighting for the freedom of Europe. Poland is perceived as the main way to rebuild Europe, which Robert Schuman, the founder of the EU dreamed of, and which politicians in Brussels completely forgot or ignored.
What is the nature of Polish business in Sweden? What are our strengths?
Sweden is a friendly country for Polish entrepreneurs. Polish companies in Sweden are assessed as reliable and stable partners. That is why we see a great development of both Polish small business in Sweden and Swedish firms willing to employ Polish workers. Likewise, there is a very positive assessment of Polish business by Swedes themselves, who operate in Poland. All of this comes back to what I mentioned earlier: education; training; experience; resourcefulness; and diligence.
After the accession of Polish to the EU, the development of economic cooperation between Poland and Sweden and vice versa was very noticeable. Sweden is an attractive investment country that has opened many opportunities for Polish commercial activities like the construction industry, which has made it a strong point of Polish entrepreneurship in Sweden.
Beginning with Polish professors and lecturers at Swedish universities and through other branches of entrepreneurship like the increasingly strong Polish supply and branding of healthy food…we can boastfully say that Polish business has come to all areas of economic life in Sweden.
Do you know examples of spectacular successes of Poles in foreign business?
Oh yes, all over the world we constantly hear about the successes of Poles abroad. When it comes to Sweden, there may not be any spectacular successes, but the fact that Poland recently attained the Annual Title during the Nordic Organic Food Fair can be counted among the first spectacular such achievements.
Natural products from Polish are increasingly appreciated by Swedes and probably all Scandinavian countries in general. Polish natural products even get SM awards. At the Nordic Organic Food Fair, Poland presented organic food and cosmetics. These two segments of the organic and ecological market are now very important for Polish entrepreneurs who want to appear on the Swedish market.
At this point, I should probably mention a sensational cultural and business success – the performances in 2003 and 2005 of Poland's National Song and Dance Ensemble "Mazowsze" which I and my husband coordinated. The concerts were watched by several thousand people, including owners and employees of large Swedish companies who operate in Poland and Sweden. These events combining Polish culture with Swedish business were absolutely spectacular and the interest in them was so great that tickets were barely available.
You are a successful woman; You produce and export Polish linen in a collection for women. Do you see your business activity in patriotic terms as a kind of showcase of Polish-ness?
My Elizabeth B brand bases its production on Polish natural materials, such as Polish linen, produced in Poland from which I manufacture an exclusive collection for women. I treat my activity both in patriotic and purely business categories. When promoting a collection, I always inform the customer about the place of production. My collection is a showcase for Poland; because I am Polish myself and my clients know about it. They also know that everything I show and promote is "Made in Poland" – which is very much cherished by my clients.
What are the differences and similarities among Poles and Swedes in their approach to entrepreneurship?
Probably these are differences in mentality and the very way of collaborating and negotiating. Despite the geographical proximity, Swedish forms of work and business are different from those known in Poland. It is not an easy market, it is full of challenges, especially those related to business culture.
It is necessary to follow certain rules of activity. First of all, you have to be patient. You should be very well prepared to take business action. Sweden has a very relational culture. You need to develop a relationship with a potential counterparty. You have to build trust; you have to be available. And, in the long run, it is best to register your own company in Sweden; to be seen as a credible partner in the long run. Another important difference in the approach of the Swedes is the foremost emphasis on quality, which is often more important than the price (e.g. the quality of products and services prevails; often, rather the opposite than in Poland – which happily, is also gradually changing!).
Swedes are very sensitive to the so-called sense of putting someone "against the wall" (i.e. criticism of them). Therefore, in order to have success in business in Sweden, criticism should be avoided. Also, an important part of a good partnership is business ethics (e.g. credibility – when you promise something, it must be fulfilled even at the price of loss). To achieve success, you need to show your intercultural competence, as well as thorough preparation and orientation like: information about prevailing market rules and signing contracts are some of the most important points.
In my opinion, the main difference between a Pole and a Swede in business is this: Poles immediately want to act and do business without prior good preparation (e.g. getting to know the market, getting to know the partner and their strengths and weaknesses). The Swedes, on the other hand, are very cautious. They check who the partner is, what benefits and losses they can incur in running a business with them. They are also very reserved and discreet before signing the contract. But when they sign it, they are a strong and reliable business partner. However, one should also take into account the Swedish legal system, which may surprise.
Is it possible to indicate the current challenges for Polish entrepreneurs in Sweden? Do you see an area suitable for development?
The current challenges for Polish entrepreneurship in Sweden are the fight against inflation; high energy costs: and, of course, the war in Ukraine. Sweden still operates its own currency, whose recent low quotations keep Polish entrepreneurship based on exports awake at night.
The area to be developed is the further promotion of tourism and the IT/technology industry. Attending major technical fairs in Sweden, as well as other varied industry events in Sweden, is highly recommended. In addition, efforts should be made to show Poland through its rich culture and traditions in the fullness of these meanings.
I wish Poland and Poles success in all European markets. Poland is an important country with a deeply grounded culture and tradition and pioneering democracy, which should be recalled, because it had and continues to have a great impact in the development of Europe. It is necessary to virtually, maniacally remind Europe and the world about great Poles, among them the former Polish Pope, now Saint John Paul II, who contributed to unity and freedom in Europe; without whom there would be no Solidarity movement and ability to strengthen the foundations of a democratic Europe.
Interview by Marta Kowalczyk and Anna Wiejak