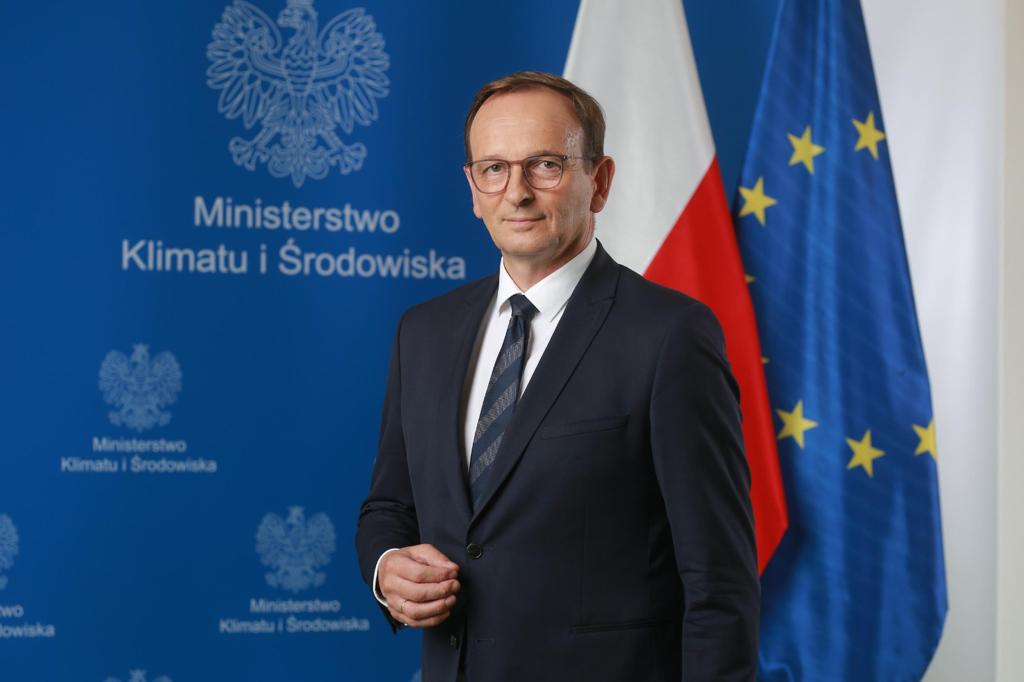 The EU wants forestry to be transferred from national to EU competence. A positive opinion on this matter was issued by the Committee on the Environment, Public Health and Food Safety of the European Parliament. This is not the first time the EU has tried to make Poland lose control of its forests. Do you know where these ideas come from and why? Were there any talks with the Ministry and did the EU officials try to argue it in any way?
Deputy Minister of Climate and Environment Edward Siarka: This initiative of the Environmental Protection Committee is a purely political action of the European Parliament. We regret that such initiatives are undertaken without the participation of nation states. Finally, on Tuesday, without extensive consultations with the states as to the directions of these changes, they were passed. And not only changes or proposals regarding forestry. This document also includes new dangerous provisions regarding climate neutrality and additional powers related to the policy on water resources or energy sources. These are solutions that strongly encroach on our sovereignty, the domain of nation states. It is simply a ruthless attempt to build a federal state.
This point seems to be a continuation of what was included in LULUCF, right?
Yes. This document is a continuation of the activities undertaken by the European Commission in the area of the entire environment sphere. The first document to be announced in this area is the New Forest Strategy, which is subordinated to the new biodiversity strategy strongly pushed by the European Commission. The European Union has set new sink targets for forests across Europe. For Poland, this means a very serious increase: 38 million tonnes of carbon dioxide equivalent. This is much more than today our forests can absorb, and we know that their capacity is around 25 million. During drought, sequestring is significantly reduced. Unfortunately, in Poland we record a small amount of precipitation. The European Union goes even a step further and puts forward proposals to impose penalties on countries that do not meet certain requirements. Poland has been burdened with an unachievable CO2 absorption target unlike other countries.
Is this a political decision by EU authorities about the need to prove, regardless of the facts, that Polish forests are "inefficient"?
This is dictated by purely ideological activities subordinated only to climate goals. When conducting forest management, we rely on scientific evidence, the hundred-year experience of the State Forests. It is thanks to their work that we have increased the forest cover to 30 percent since World War II. In this respect, we are among the European leaders. However, in the world of pseudo-ecologists, we are portrayed as a country with wasteful forest management. For one hundred years of operation of the State Forests, we have taken great care to preserve valuable species of fauna and flora. During this time, we have not lost a single species. On the contrary. We have enriched biodiversity and it is our wealth. In our forest management, we balance protective measures with social and economic needs. There is no other raw material in nature that can replace wood. It is a natural, ecological raw material. We are proud of our forest resources and we must stand up for them.
I still have fresh memories of the decisions of EU commissioners to ban logging in the Białowieża Forest, which led to environmental degradation…
It was an experimental decision of the European Union, which unfortunately Poland caved in to. Even though we were right, we let ourselves be scared and put to the pillory. It wasn't about cutting. The point was that there was an accusation that Poland, when deciding to carry out these logging works, did not sufficiently ensure how these works would affect the environment. There was indeed confusion with environmental decisions. To this day, the area of three forest districts is not accessible due to the danger caused by decaying wood. This is how it ended, and we lost valuable natural resources that we could use for many years. This is an example of how the doctrinal approach leads to the situation that we can lose what is valuable in nature. I would not like us to live to see a time when, as a result of ill-considered decisions of EU officials, the next generations will have to reverse the bad effects of these policies.
The question is whether this is really ill-considered EU policy or is it quite the opposite? I get the impression that someone simply wants to bring about the annihilation of the Polish State Forests in order to get to the mineral deposits located under them?
Ill-considered because it is not based on scientific facts and lined with ideology. However, it was thought out in terms of the implementation of blind regulations, which we do not know how they can end. We are trying to prove scientifically that subordinating forest policy to climate goals will be counterproductive. As a consequence, this will lead to the degradation of forests which, without active protection, will not be able to restore for hundreds of years.
And by the way, it will actually increase CO2 emissions, contrary to what officials say.
If a tree is left to decompose naturally, it will not only be of no use to humans, but will also become an emitter of carbon dioxide into the atmosphere. Rational arguments are not reflected in EU documents.
An amendment to the Treaties is required for the transfer of competences. To what extent, in your opinion, is there a risk that the EU will want to do this ultra vires?
I believe that we have a chance to defend ourselves, provided that forest policy does not become part of bundled deals. We see this in the example of conditionality or milestones. An additional element is thrown in, which are forests. They make up 1/3 of the area of our country. The European Union seeks total control over this area. As long as the unanimity rule, which Brussels demands to be abolished, is in force, we are able to defend ourselves.
Why does the EU not want to learn from the experience of Polish foresters? After all, we have a model forest economy.
I will say more, in many places about 70,000 foreigners come to Polish forests for tourism. And what are they saying? "What wonderful forests!" And I often ask them: "Then why can't you help us on the EU forum and show that the Netherlands and Belgium should take an example from Poland?". They reply: "We won't, because we lost our goods a long time ago". We have something to be proud of. We have a hundred years of experience supported by deep practices. Our actions are respected in many corners of the earth and we are proud of it! We have great achievements here and we have much to be proud of.
Interview by Anna Wiejak