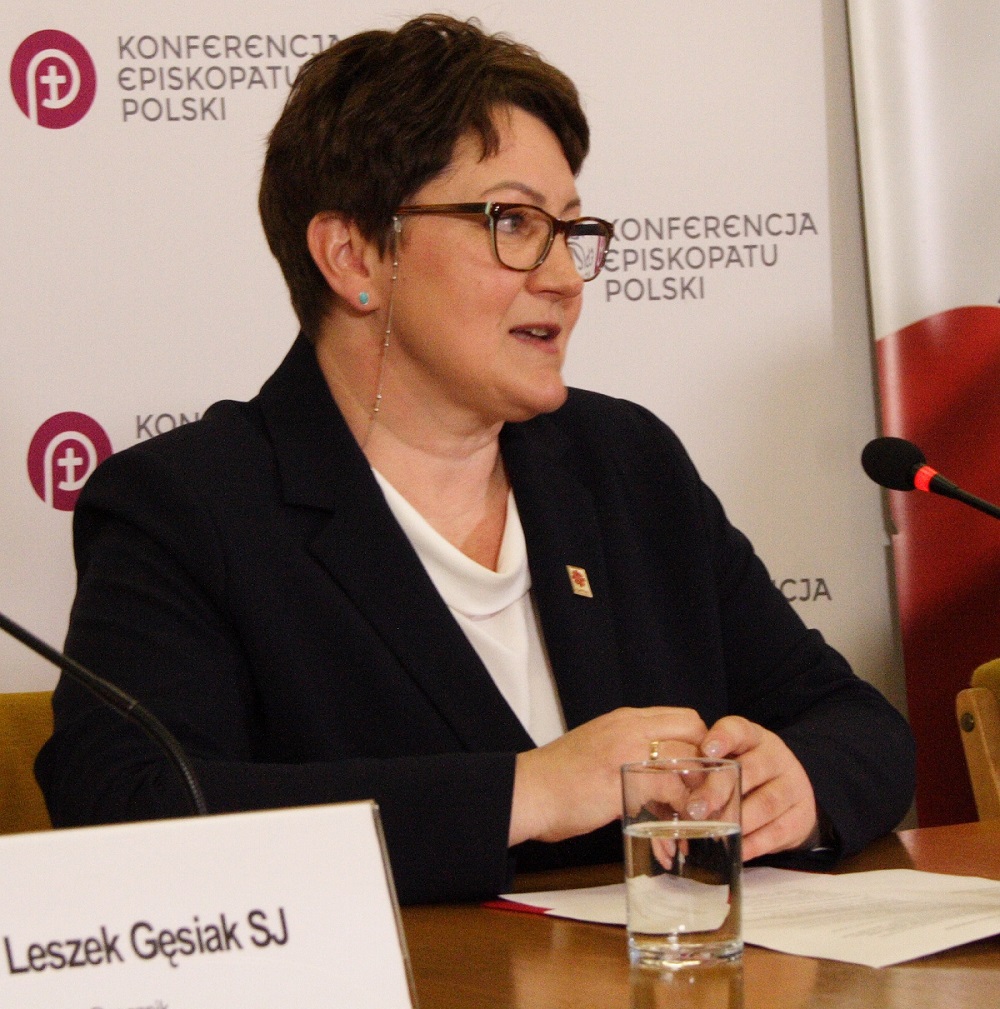 How would you sum up this year of aid to Ukraine? How did it look like?
Małgorzata Jarosz-Jaraszewska: This is a year in which we have learned a lot. We had to respond to some amazing challenges that we had never faced before as a charity. First of all, the enormity of the tragedy of the people who reached Poland and their situation caused that we were forced to act on many fronts. I hope it succeeded. We have helped over 2 million adults from Ukraine with children, providing them with shelter in our Caritas facilities, in centers, as well as social assistance, also in the form of financial, material, food assistance and now integration assistance in our centers for migrants and refugees. Every day, new people come from Ukraine, fleeing from the cold, from bombing, and getting help from us.
What were the biggest challenges?
The biggest challenge at the beginning, of course, was the huge number of people who crossed the border and the fact that, above all, they needed information about where to find shelter. Caritas very quickly became involved in organizing "Tents of Hope" on the very border, but also in organizing reception points in other cities and distributing people in need to various places where they could get this help. We also acted as an intermediary in the organization of shelter directly with people associated in parishes, who showed their great heart to take families under their roof, to their home. Starting or developing international cooperation was also a big challenge. A lot of Caritas, of course, from all over the world, but especially from Europe, came to us with an offer of help. Organizing and coordinating such a process is not that easy. We had to increase the team of working people very quickly, also with humanitarian experience. A separate thing is the humanitarian aid sent to Ukraine. We have experience in this as Caritas Polska, because the entire foreign department deals mainly with this. Nevertheless, the enormity of this help, which was needed and was also offered to us in the form of tons of various types of products that we sent to Ukraine, meant that we had to quickly create a warehouse in Lublin where it could be reloaded and sent to Ukraine.
Many volunteers have been involved in cooperation with Caritas. How many? What was the reaction of Polish society at the very beginning of the war?
The response was huge. We recruited for our tents – Caritas Polska, but above all, the dioceses used their volunteer resources. At the moment, we count that about 31,000 volunteers were involved both at the border and now, already in integration activities. A very interesting aspect is that Ukrainian volunteers come forward – not only those who we give employment to, but also Ukrainian citizens, especially ladies, because there are the most of them. Also seniors. They say that they do not want to sit idly by, that they want to help. Therefore, in addition to Polish employees and volunteers, our centers for migrants and refugees also include Ukrainian volunteers.
What does the work of such a volunteer look like?
Volunteers primarily help in providing information. In the centers we have a lot informations about where you can get specific help. In the centers themselves, we offer psychological assistance, job placement, various types of integration activities, meetings for children, for seniors, for mothers with children, mothers without children – in various groups. Nevertheless, we must also be aware of what kind of help is provided by the state, what kind of benefits each Ukrainian can receive and such information can be provided by a volunteer trained by us, as well as where to get other help from other organizations and institutions, in what towns. Thanks to this, we create a kind of help network, so that not one organization is responsible for everything, but we create a network of this help and very good cooperation.
Caritas also offers in-kind assistance to Ukrainians. What are these needs at the moment and what is the response of Polish society to them?
We are aware that in the first moment this willingness to help was obviously greater. It was huge. At the moment, it's not like it was at the beginning, but we still have programs that now support Ukrainians in Ukraine itself, i.e. "Parcel for Ukraine" – this is a very good solution, because a cardboard box with specific products is very easy to reload and we can send such transports with parcels to Ukraine, to our transshipment warehouses. From there, they are transported all over Ukraine in small buses. A person can take such a cardboard box – it is not so light, because it weighs 18 kg – and take it whole. There is no need to create a group of people to unpack it. The second thing is that we provide financial assistance in Ukraine. In-kind aid involves all service, but in fact the most effective humanitarian aid is the transfer of funds, as long as it's possible to buy something in a given place. Through Caritas SPES, we have selected the most needy people in Ukraine and there we provide monthly assistance in the amount of about PLN 1,300, which a given family will be able to receive for six months. We'll see how we can raise more funds to continue this.
Does the help provided by Poles is reflected in any way into building relations between these two nations? If so, how? Do you have any feedback?
There is a feedback because we have a lot of materials and recordings from Ukraine. We send our representatives there, both from the communication department and from the substantive departments, and it is always just great gratitude. Anyway, the Ukrainians do not hide it. At every meeting I attend, for example at the Center for Migrants and Refugees, someone from the group stands up and says on behalf of everyone that they thank the Poles very much for what we do for them. It's really very touching because it's very real. Nobody invites anyone there. But there is another aspect that appeared in the case of the activity, which I did not manage to talk about today. We organize "rest periods". We invite children from war zones to rest in Poland from air raids, bombings, cold – they come here for two weeks from very distant places. Also from Lviv, from the resettlement centers that are organized near Lviv. There, we had a phenomenon that at the beginning these children formed separate groups – children from the east and children from the west – and only after some time they began to integrate with each other. I think that this is an aspect that we do not think about at all now, that apart from all the evil that is happening, there is also a lot of good going on, which will affect Ukrainian society in the future. Children who go to school in Poland will return to Ukraine one day and will have completely different competences, a completely different attitude towards people from another country and the same towards each other. I think that's very important too.
Interview by Anna Wiejak