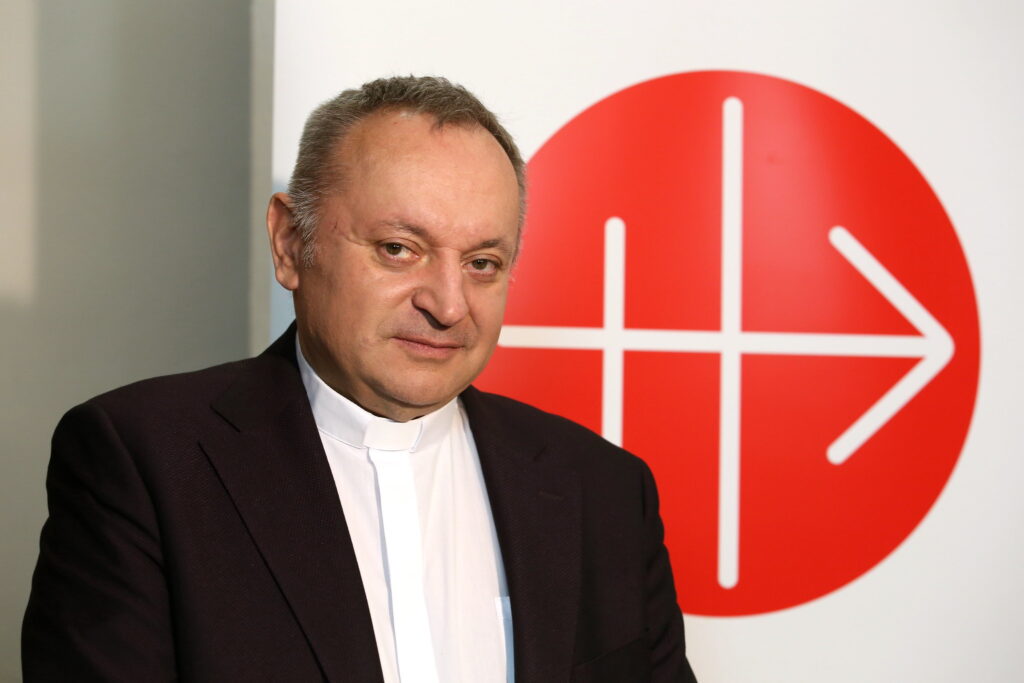 In churches all over Poland, collections were carried out in cans to help victims of the earthquake in Turkey and Syria. The organization Aid to the Church in Need also organizes a fundraiser to help the victims. What exactly will these money be used for?
Fr. Prof. Waldemar Cisło: Yes. On our website there is an account as part of the "Solidarity with Syria" campaign. As Aid to the Church in Need, we have been present there since the beginning of the war. What is most needed right now? Every day I talk to our priests and bishops who are in Aleppo or Homs – at the moment we need food, the so-called dry goods. There is no electricity there, sometimes there is even nothing to cook on and you have to remember about that. Warm clothing is needed. We are preparing a larger project to purchase sets consisting of trousers, a sweater and a jacket. Such a set of new things there in Lebanon costs 5 dollars. What is needed is powdered milk – we are also preparing this transport. Thanks to the courtesy of the military, I think we'll be able to deliver it. If everything goes well, in the next several days we will want to deliver a larger humanitarian convoy, because this also requires preparation and financial support to transport these items. At a later stage, tents and containers will also be needed. Not only did many of these people lose practically everything during the war, but now these earthquake, and then these aftershocks, which cause great anxiety and great fear of people for their lives.
People who managed to survive even said that those few minutes of the earthquake were worse than twelve years of war.
Yes. Let us remember that Syria is an embargoed country. There is a shortage of medicines, there are no spare parts for medical devices. Let us also remember that we have a problem with the so-called functioning of the state. In Turkey, there is a police force, there are other services, but in Syria there is no such thing. This is an additional problem. They are not comparable countries. In Syria, the problems are much bigger. We have millions of internally displaced people, because they moved from places where fighting took place, such as Aleppo, Homs and others, to a place where there were no such fights or there were a little less fights. This is another problem – they live in difficult, makeshift conditions. So this is a very difficult situation. As I say, a country that has been at war for 11 years can only be compared with the pictures that come to us from Ukraine.
You mentioned Ukraine. At the same time, Polish aid for refugees from this country continues. How big is the scale of this help?
Let's remember that it is both the internal one and the one on the scene. We, as Aid to the Church in Need, try to provide it. On the day of solidarity with the persecuted Church dedicated to Ukraine, we have already donated half a million euros to priests and sisters who are trying to organize this help on the spot. We remember that in every parish people were afraid of winter. For example, Bishop Kryvytsky from Kiev ordered the preparation of a warming house in every parish, where everyone who does not have the opportunity to warm up at home will be able to come, warm up so as not to freeze and eat a hot meal at least once a day. This kind of stuff is done there, and it's still going on. We don't know how this war will go. I am not an optimist – in Syria we deluded ourselves that the war would last a year or two, today we are in the eleventh year.
Poles help despite the ongoing crisis. Is helping others in our genes as a nation, or are there many more reasons?
I think we have a lot of solidarity inscribed. What we used to say at Jasna Góra, that if someone asks us about what is left in Poles from the teaching of St. John Paul II, it is this leaning over the other, weak man, this beautiful attitude of a man who suffered and persevered in his office until the end. I think that it also taught us compassion, leaning over the poverty of those people who have it worse than us.
But what about the Catholic faith itself?
Mercy is known to be inscribed in Christianity – it is leaning over another human being, the commandment to love God and neighbor clearly show us where our love, where these works of mercy should be directed. The approaching Lent will all the more direct us in this direction and in this reflection.
And it will be another special Lent, with unique events and huge challenges for us, even though we are not affected by this calamity.
Yes, but indirectly, unfortunately, either these refugees from Ukraine or from there reach us. We have been with these people for years, so it is difficult to leave them now, when they are going through such a huge tragedy. And they count on our solidarity. It is known that we are not able to secure everything, but to a large extent, at least the fact that we talk to them, that we have contact with them, that we are trying to prepare something, is very important.
Yes. Every project we do is settled. We know who the beneficiary is and how many families have received help. It's like the project done every year before Christmas for the victims of the explosion in Beirut, when 10,000 families received through parishes, convents and monasteries the help that was most needed, i.e. food.
Are these people in touch with those who helped them?
The parish is a place where they seek help. If they are refugees, the first place where they seek help or support is the parish.
And what are the reactions to the fact that this is Polish aid? Are there any ties? Making connections?
It's hard because it's not possible. There are ten of us. Of course, when we were in the parish, we met these people, the priests. They thank us, they are grateful. They always ask to thank the Poles because they have no other possibility. They handed out letters of thanks, but we don't have the ability to reply to hundreds of letters. Our children also wrote Christmas letters to children in the Holy Land. This kindness is certainly there, the memory is there, and it is unquestionable, because it can be seen at every step, but we do not have the physical possibility of entering into any relationships, because today we have Lebanon or Syria, tomorrow it will be Sudan. We would do nothing else but reply to letters and e-mails, and here you have to work, you have to collect these funds. Unfortunately, this is the brutal reality.
Interview by Anna Wiejak