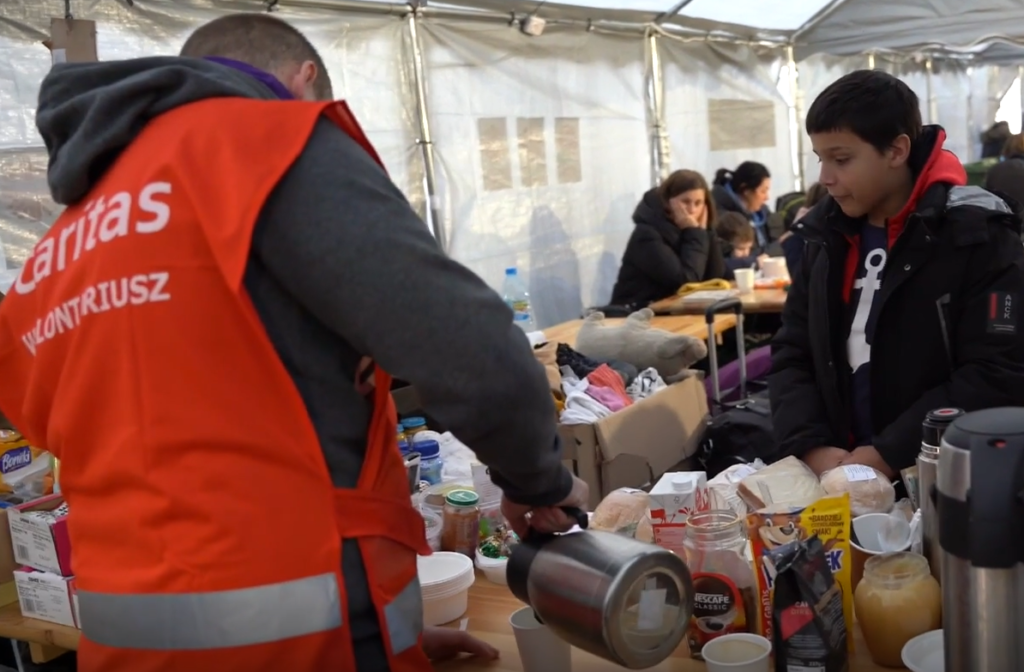 The value of Polish humanitarian aid sent to Ukraine by Caritas is PLN 260 million. Another PLN 257 million was allocated to food and material packages delivered to refugees from Ukraine. Poles help willingly, despite the crisis. Support for Ukrainians comes from all dioceses in Poland.
"During this year, over 8.5 million refugees from Ukraine crossed the Polish border. Most of them went to other countries, some returned to Ukraine, but a large part remained in Poland" – said the spokesman of the Polish Episcopate, Fr. Leszek Gęsiak during a conference devoted to Polish Catholic organizations' help for war-torn Ukraine. "From the very beginning of the war, the Church, through Caritas Polska and diocesan Caritas, as well as many other organizations, spontaneously joined in direct aid to refugees" – he added, pointing out that it was both logistical assistance and support for those who remained in Ukraine. "It is very difficult today to estimate what help the church institutions showed during this war to those who needed it. It is very difficult, because the evangelical principle says that the left hand should not know what the right hand is doing. Many efforts were undertaken in silence, in peace and with respect for the dignity of those in need" – the spokesman emphasized. "In the vast majority of cases, this assistance was provided without cameras, without journalists, on the front line" – he added.
As he informed, about PLN 350 million from various church funds was devoted to supporting the integration of people who came to Poland to survive the war. At the same time, over PLN 250 million was allocated for gifts that were sent to Ukraine. "These figures are estimates, because the actual aid many times exceeded the figures given by us" – noted Fr. Gęsiak.
"We believe that there is more good and what we do together will overcome the evil of war" – said Małgorzata Jarosz-Jaraszewska, deputy director of Caritas Polska, admitting that although the beginning of the war was a surprise, the reaction was immediate. "We set up 12 'Tents of Hope' at the border, and there we provided social, food and, above all, information assistance 24 hours a day" – she enumerated, emphasizing that "people who crossed the border were very tired and needed support, but also information where they could go farther to get help for longer". Caritas also created special points for mothers with children and distributed hot meals. Daily, during the peak traffic on the border in Przemyśl alone, as many as 30,000 sandwiches were issued, and in the first week of the war – 50,000 hot meals. "Non-stop, twenty four hours a day, soup was cooked and poured in our 'Tents of Hope'" – said Jarosz-Jaraszewska.
From the very beginning, diocesan Caritas joined the humanitarian aid sent to Ukraine. "Its value exceeded PLN 260 million in the form of food aid, hygiene products, but also power generators, various types of equipment that were needed to organize help on site. Recently, in connection with the winter, we supported Caritas SPES, i.e. Catholic Caritas, which is in Ukraine, and 18 points of warmth and hope have been created, where Ukrainians can come and spend some time in warmth, charge phones, appliances, heat up food and spend time with their children in a safe place" – she enumerated. "We quickly launched the 'Parcel for Ukraine' campaign so as to channel this great need for help by Poles who brought various types of articles to Caritas facilities" – she added. The parcels had very specific contents – from hygiene products to food – and were large enough for one family to have basic supplies secured for a week or two. "We managed to collect over 83,000 such parcels worth over PLN 29 million" – informed the Deputy Director of Caritas.
"During Easter of the Eastern Church, we organized Easter breakfasts for 20,000 people. There was prayer everywhere, there was time for being together. It was very important and the Ukrainians also thanked us very much for these initiatives, which were not only related to the direct social assistance but also spiritual support" – she reported. During the year, Caritas Polska opened 32 centers of assistance to migrants and refugees throughout Poland, which at the moment provide permanent psychological, job placement, information, social, material and financial assistance. 2 million people received help, not counting those who only passed through Poland and stayed in "Tents of Hope". Caritas provided special assistance to seniors, of whom there are over 400,000, and to children. 700 children from orphanages in Ukraine found shelter in Caritas institutions. "At the moment there are about 200 of them and we have a special program that supports these children so far" – said Jarosz-Jaraszewska, adding that Ukrainian children have been included in all programs that Caritas implements for Polish children in need. "Ukrainian children went on vacation. 4,000 children received backpacks and scholarships" – she enumerated. "We have also included Ukraine in the 'Family to Family' program, helping families in Ukraine as we have been helping Syrian families for many years. This is financial aid. At the moment, 620 families are already supported in Ukraine. We hope that this year it will be more than 1,100 families who will receive specific financial support every month" – she reported.
The Office of Aid to the Church in the East also organized charity – 29 trucks with humanitarian aid. In addition, it financially supports orphanages and seniors' homes in Ukraine. "As the Aid to the Church in the East team, we donated PLN 1.72 million from our funds, but to this you need to add the same amount of funds that come to us and which we transfer or use to help" – said Fr. Leszek Kryża. "We started with prayer help. We initiated a common rosary prayer for peace in Ukraine" – he reported. The clergy also helped intensively at the border, where human dramas were taking place – mothers with children, sometimes with frostbitten hands and feet, could finally find a warm shelter in tents or by parishes. "Volunteers from Wrocław built a center near the border, where you could warm up, eat something, use medical help" – said Fr. Kryża.
Similar help was provided to the Ukrainians by the Knights of Columbus. "We managed to collect USD 20 million and we try to transfer these funds through various channels" – said Krzysztof Zuba, state delegate of the Knights of Columbus. Moreover, there is also 48,000 packages with aid that the Knights will send to Ukraine.
Huge help to Ukrainians – also humanitarian, prayer and medical – both in Poland and in Ukraine is provided by the Knights of Malta, who have been helping in Ukraine since 2014. "The international structure allows us to consolidate forces and help very effectively, specifically and purposefully in such crisis and war situations" – said Marek Grzymowski, vice-president of the Malta Help Foundation. He emphasized the role of the Maltese hospital in Barczewo, where the process of both treatment and rehabilitation of the most seriously injured people from Ukraine takes place. "The value of our help is nearly PLN 97 million in various forms. It is both a material form and the form of work of our volunteers and partners" – he enumerated.
Polish aid cannot be overestimated. "No country in the world has reacted to the pain of Ukrainians like Poland" – says Aleksandra, who came to our country from the Dnipropetrovsk region with her two children. However, there are definitely more such voices on the Ukrainian side. They thank Poles not only for opening their homes to them, but also for opening hearts.
Anna Wiejak