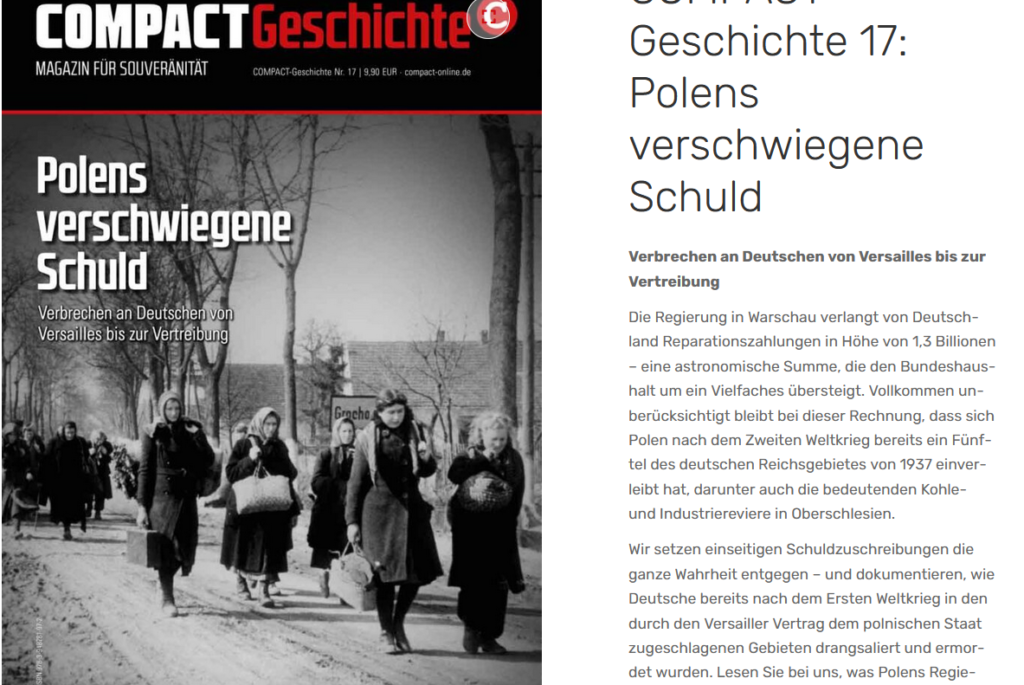 "Germany behind barbed wire: death in Polish internment camps"; "Polish road to war/1930-1939"; "Warsaw Gulag for Germans: Świętochłowice and other camps"; "The hell of Lamsdorf: the worst concentration camp in Poland"; "Fokus Gdańsk: Poland's participation in the outbreak of war" – these are the titles of scandalous, revisionist articles published in the German magazine "Compact Geschichte".
Some German AfD politicians speak in a similar tone. Extreme circles in Germany, once again continuing Hitler's rhetoric, are trying to spread propaganda hostile to unity, solidarity and peace in Europe, blaming Poles for the outbreak of World War II, and turning the victims into executioners. Such behavior of some German circles is reminiscent of the attitude of people addicted to various addictions who have not undergone therapy. Just as an alcoholic blames everyone around him for his behavior by denying that he is not addicted, so those Germans who question their guilt as addicted executioners during World War II try to deny that fact instead of facing the truth and undergoing therapy that would allow them to return to normal condition. By not only admitting guilt, but also by making material compensation to Poles, brotherly relations between Germans and Poles could be established. Taking such action by Germany is a requirement for building lasting peace in Europe and creating a healthy community of European nations in the social and economic dimension. According to Schuman, the duty of the Germans is to introduce unity, solidarity and peace by making reparations to Poles for harming, i.e. stealing property and murdering millions of people, including child abuse.
A representative of the AfD party expressed the view that Poles owe reparations to Germany. "My mother was about 10 years old when she was expelled from Lower Silesia with her grandmother and siblings. The men were at the front," – Doris von Sayn-Wittgenstein said, quoted by TVP "Wiadomości", who took part in an anti-Polish, falsifying history debate on YouTube. It was conducted in the context of the content of the "Compact Geschichte" magazine, which is considered the press organ of the Alternative for Germany, although some AfD politicians strongly distance themselves from it. "My great-grandfather was in a labor camp, where he was beaten so badly that he became a cripple" – von Sayn-Wittgenstein said, in whom it is in vain to look for regret for the murder of over 6 million Poles by the Germans. Therefore, let this group of AfD members and deputies who dissociate themselves from such attitudes of their party colleagues, who somehow accept the system created by Hitler, create a new faction and a party of unity-solidarity-peace and follow Schuman with Poland and build a community Nations of Europe and not a European superstate subject to the hegemony of Germany, which in a way is a return to the ideology of "Deutschland Uber Alles" and the subordination of Europe to Germany.
In Germany, there has been a revisionist lobby basically since the 1970s, the aim of which was to hold Poland responsible for World War II and to make victims of the German nation, which is a war criminal. His narrative turned out to be so effective that well over 75% of contemporary Germans (although this number may be underestimated) believe that reparations from Germany are not due to Poland. Most of them are of the opinion that it was Germany that suffered the most during World War II. Hence the articles in "Compact Geschichte" ("Germans behind barbed wire: death in Polish internment camps"; "Polish road to war/1930-1939"; "Warsaw Gulag for Germans: Świętochłowice and other camps"; "Hell Lamsdorf: the worst concentration camp in Poland"; "Fokus Gdańsk: Poland's participation in the outbreak of war") fall on fertile ground.
"Find out how 14 million Germans were forcibly expelled from their homeland in the winter of 1944/45 or tortured and murdered in extermination camps such as Lamsdorf, Jaworzno or Świętochłowice," thunders "Compact Geschichte". At the same time, it does not mention the fact that the Germans themselves fled from these areas after their incorporation into Poland, because they were afraid of retaliation for the bestial crimes committed against Poles. Contrary to what the revisionist circles in Germany are trying to imply, there have never been any "Polish concentration camps", but there were German concentration camps where the Germans carried out mass murders, cruel pseudo-medical experiments on living people, forced starved prisoners to work beyond their strength for Germany, and also produced soap and various gadgets. The leading well-known German corporations grew rich on the forced labor of Poles and assets stolen from Polish companies, and in hundreds of thousands of German homes there are items stolen from Poland. Many of these items are forbidden by the Scholz government to be returned to Poland, despite the willingness of German citizens to return them.
"The government in Warsaw is demanding war reparations from Germany in the amount of $1.3 trillion – an astronomical sum, many times more than the federal budget. This calculation completely ignores the fact that after World War II Poland had already incorporated one-fifth of the territory of the German Reich since 1937, including important coal and industrial areas in Upper Silesia" – we can read on a website of "Compact Geschichte". Meanwhile, the truth is that, firstly, Silesia is an area with Polish roots, which Poland has been losing as a result of historical turmoil, including the aggression of its neighbors. Secondly, according to the estimates of the German historian Götz Aly, the resources plundered by the Germans during World War II would be worth at least EUR 2 trillion today. To this, let's add the losses they caused in people, including the Polish intelligentsia, and material damage. It is therefore clear that the $1.3 trillion is not an excessive sum.
However, "Compact Geschichte" after a series of critical articles in the Polish media and equally critical statements of Polish politicians has nothing to reproach itself with. "An article in a Polish newspaper quotes in detail headlines from COMPACT's history booklet, including 'Germany Behind Barbed Wire: Death in Polish Internment Camps', 'Saber-rattling from Warsaw: Poland's war plans against Germany' and 'Terror Against Minorities: Hatred to Germans, Jews and Ukrainians'. This alone should make many readers of "Rzeczpospolita" dizzy. Unfortunately, the historical events mentioned in the articles are facts. Currently, they are mostly silenced, but that does not stop them. German victims also have a right to historical memory!" – thunders the German newspaper, falsifying the history to the extreme. At the same time, it accuses the Polish deputy minister of foreign affairs of "no mention at all, for example, of the annexation of eastern German lands and the expulsion of Germans from their homeland." "And that should be the basis for a true reconciliation that takes place on equal terms?" asks the newspaper, which has targeted Poland for its propaganda. It also makes room for the anti-Polish Russian propaganda by translating the Russian "Perwy Kanal" from January 29, 2023 and writing about Poland as the "Hyena of Europe". "'The hyena of Europe' is also the title of a documentary by a Russian history channel that will air soon on Rossiya 1. But why 'hyena'? Because it is afraid of open combat but is ready to snatch the loot from others, as happened in the Czechoslovak province of Cieszyn after Germany occupied the country as a result of the infamous Munich Agreements. Hitler also allowed the "hyena of Europe" to bite off a piece. At that time, Polish troops entered Cieszyn. But of course, Russia was still the most important dream "- we read on the "Compact Geschichte" website, which lists anti-spiegel.ru as a site worth of recommending. Manipulation is all too visible here: Poland is supposed to be a partner of the mythical Nazis led by Hitler. And it is not important that Hitler attacked Poland, and Cieszyn was a city with Polish roots.
The question arises here, to what extent are these revisionist tendencies in Germany played out by the Russians in order to hit Poland? It is justified because in Germany we are dealing with a real anti-Polish offensive. The "Compact Geschichte" itself states the following: "Norbert Kleinwaechter, vice-president of the AfD parliamentary faction in the Bundestag and member of the delegation to the Parliamentary Assembly of the Council of Europe, explains to Rzeczpospolita that the magazine "Compact", with which the AfD has nothing to do, does not belong to the party nor does it act on its behalf." – Publisher Jürgen Elsässer is not a party member either, but he tries to influence some party members. His views are contrary to those of the AfD, emphasizes Kleinwächter and adds that he regrets the publication". Due to the fact that, however, in the media information appeared about voices of support for anti-Polish propaganda from some AfD members, one should expect that the head of the AfD and the head of the AfD parliamentary group in the Bundestag will clearly distance themselves from such an anti-Polish campaign.
While the participation of the Russian services in the entire campaign against Poland should be investigated by the relevant state authorities, it should be stated that there is no consent to falsify the history of World War II. The Germans were the criminals and the Poles were the victims. Until Germany pays reparations to Poland, there will be no proof that they really regret these crimes. After all, there can be no true partnership without reparation. Articles like the one in "Compact Geschichte" also destroy this partnership, because mutual relations can only be built on truth.
Anna Wiejak