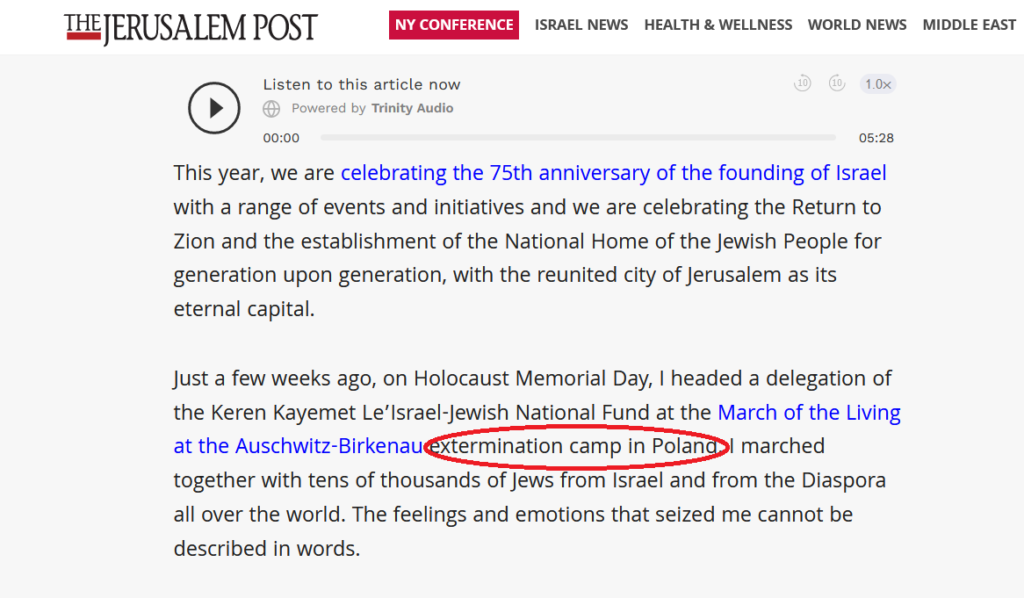 Ifat Ovadia-Luski in the Jerusalem Post wrote about Auschwitz-Birkenau as "an extermination camp in Poland", without adding that it was a German concentration camp, where only Germans were responsible for the crimes.
"Just a few weeks ago, on Holocaust Memorial Day, I headed a delegation of the Keren Kayemet Le'Israel-Jewish National Fund at the March of the Living at the Auschwitz-Birkenau extermination camp in Poland" – wrote an Israeli columnist, adding that she had marched with tens of thousands of Israeli and Diaspora Jews around the world.
Apparently, Israeli journalists, columnists and publishers should once again be reminded that the extermination camps were established by the Germans in occupied Poland and they were intended not only to exterminate Jews, but also Poles.
Writing about "extermination camps in Poland" is nothing more than a part of the German historical policy of shifting responsibility for the bestial crimes committed by the Germans and falsifying historical reality.
It is all the more painful that Poles were the only ones in Europe who risked their lives to save their Jewish neighbors. There were thousands of these silent heroes. "At the Institute of National Remembrance, we have attempted to determine the names of Poles who saved Jews, and we know that we are unlikely to be able to collect more than 11,000 names, and some estimates say that there were at least ten times as many of those who helped" – Dr. Mateusz Szpytma, deputy president of the Polish Institute of National Remembrance said in an interview for "Schuman Optics Magazine".
Cavalry captain Witold Pilecki also risked his life by allowing himself to be locked up in Auschwitz to later prepare a report on the German crimes committed there. It is sad that at least some of today's Jewish communities seem to be completely oblivious to this.
AW