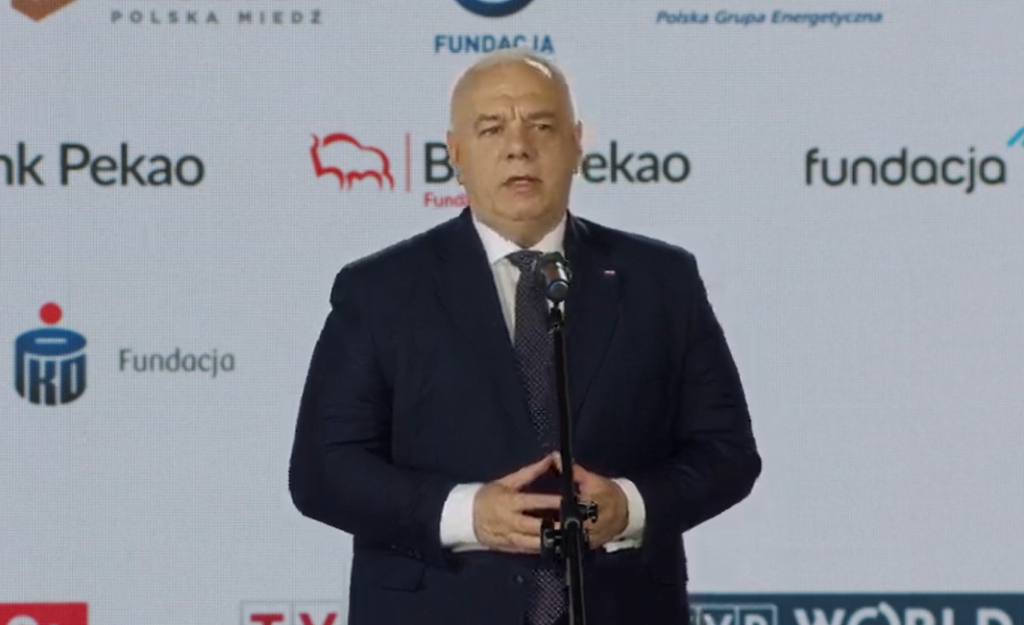 "Today, energy is the weapon of the 21st century" – Deputy Prime Minister Jacek Sasin, Minister of State Assets, said during the second day of the 13th Polska Wielki Projekt Congress in Warsaw. In this context, he emphasized the importance of Polish companies.
"Today, energy security in our region cannot be built without Orlen, without this company. It also builds our political position as a leader of Central European countries, a region that has common threats, but also common development visions" – Sasin noted. "Also, other companies are more and more boldly reaching for international markets. KGHM is another example of a Polish economic champion, which is present today not only in Poland very strongly, but also outside Poland. It conducts its business on three continents, including mining on two continents: in South America, in Chile, but also in North America, in the United States, in Canada" – he added, emphasizing that "KGHM owns two mines in the United States: in Arizona and Nevada".
"I had the opportunity to talk to representatives of the Chilean government. They highly value Polish companies. They expect our investments. They also see them as an opportunity to break the monopolies that have been present on these markets for many decades" – Sasin said.
"PKO BP Bank is very present in our region, in the Czech Republic, Slovakia, Germany, but above all very widely present in Ukraine through Kredobank, one of the largest Ukrainian banks. PZU, an insurance company that is also entering the Ukrainian market more and more, or finally, the stock exchange, which has recently made a huge foreign investment, taking over 66 percent, i.e. a proprietary controlling stake over the Armenian stock exchange in Yerevan" – he enumerated.
"Of course, the catalog of these investments that build the Polish brand is and will be more and more wide, because many Polish companies have already reached the level of development that allows them not only to think about expansion on the Polish market, but also about international expansion. Many companies is preparing for this expansion, and those that are already present plan to expand their global presence in this very real dimension, not only in trade, but also in production and mining" – informed the Minister of State Assets, noting that "the Polish state supports these activities, supports the establishment of international contacts.
"Poland is a serious country. It is not only a market that you can easily enter and build a good place to invest here. Today, we are the country that often invests, which often arouses surprise that it has the strength to invest, to take over large foreign companies and also be strongly present in the economy of highly developed countries" – he noted.
"The value of investments that go to Poland annually in relation to the investments that Polish enterprises invest abroad is 1 to 10, i.e. ten times more foreign capital goes to us, and we invest 10 percent of what goes to us abroad" – informed Prof. Witold Wiliński, President of the Management Board of GPW Tech.
"Today, the Polish state's approach to export expansion is very professional" – Jerzy Athanasiadis, president of the Polish-Greek Chamber of Commerce and Industry added. He reminded that Polish companies have invested in the tourism sector in Greece, e.g. taking over hotels, Poland has also invested in the energy sector, and there are many Polish companies operating on the Greek market, which have branches in Greece. "There is PAIH that supports Polish entrepreneurs in Greece. There is KUKE that protects them. There are bilateral chambers that support all activities" – he said. "In this aspect, however, I would also like to emphasize the wisdom of the Polish government, which has strongly activated economic diplomacy" – he noted.
AW