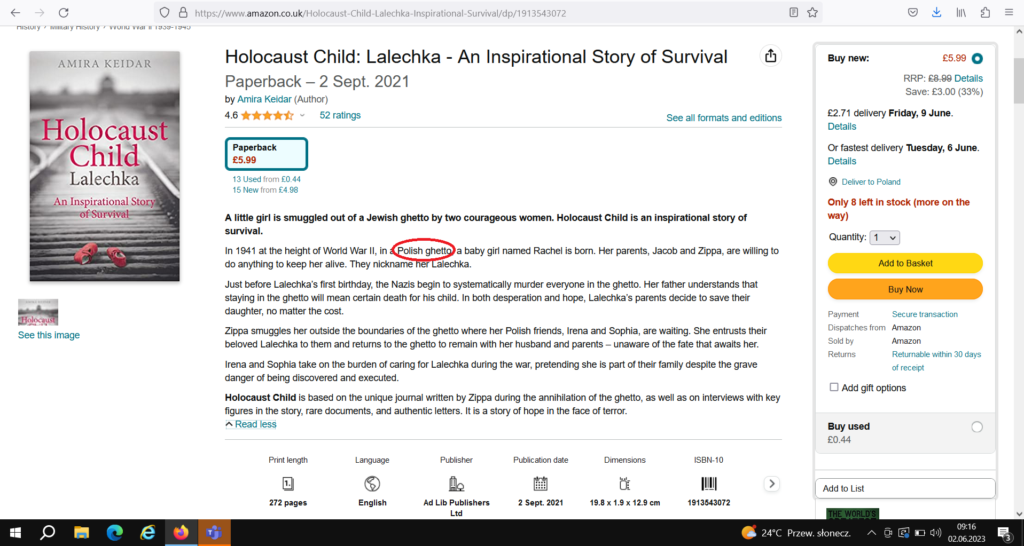 In the description of Amira Keidar's book "Holocaust Child" available on Amazon, there is a suggestion that Poles created ghettos during World War II. The description speaks directly of the "Polish ghetto". Meanwhile, it was the Germans who created ghettos for Jews in occupied Poland.
"In 1941 at the height of World War II, in a Polish ghetto, a baby girl named Rachel is born. Her parents, Jacob and Zippa, are willing to do anything to keep her alive. They nickname her Lalechka" – we read on Amazon.
The fact is that there were no "Polish ghettos" and those ghettos that existed in German-occupied Poland were German. The description of the book "Holocaust Child" fits in with the anti-Polish policy of whitewashing German crimes committed in Poland and shifting the responsibility for them onto Poles. It is all the more scandalous that Poles were the ones who, next to Jews, suffered the most as a result of German aggression – they were tortured, murdered, they were next after Jews, whom the German occupier wanted to exterminate in order to make "living space" for the Germans.
We expect Amazon not only to rectify these lies, but also to apologise.
Anna Wiejak