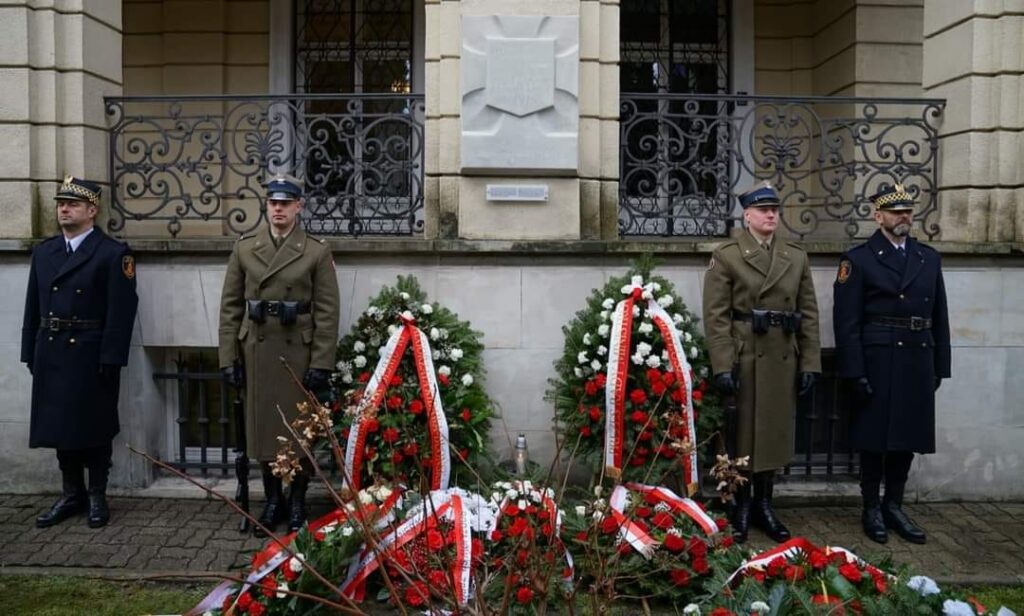 Representatives of the Office for War Veterans and Victims of Oppression and the Social Committee for the Care of the Graves of Fallen Soldiers of the "Zośka" and "Parasol" Battalions organized ceremonies commemorating one of the most important combat actions carried out by the Polish resistance movement in the General Government – the assassination of Franz Kutschera.
The celebrations of the anniversary of the assassination attempt on Franz Kutschera, commander of the SS and Police for the Warsaw District of the General Government, began with a solemn Holy Mass. celebrated February 1 at 10.00 at the Field Cathedral of the Polish Army for the Home Army soldiers participating in the action.
Then, wreaths and flowers were laid at the obelisk with a plaque commemorating the "Kutscher" Combat Action in Aleje Ujazdowskie in Warsaw, in the place where it took place. Later, the participants of the ceremony went in front of the building of the Hungarian Embassy in Al. Ujazdowskie 21, to light candles and lay flowers in front of a plaque dedicated to the inhabitants of Warsaw, who were shot on February 2, 1944 in Aleje Ujazdowskie in retaliation for the murder of the criminal.
A tribute to the heroes of the "Kutschera" Combat Action and the executed inhabitants of Warsaw was paid by the deputy president of the Institute of National Remembrance, prof. Karol Polejowski. In turn, the head of the Office for War Veterans and Victims of Oppression, Jan Józef Kasprzyk, pointed out that the attack on Kutschera showed that "there is no crime without punishment and that Poles are ready to fight for justice with the greatest sacrifice." Of the 12 participants in the action, two lost their lives during the retreat, and another two died in hospital as a result of their wounds.
During the "Kutschera" combat operation on February 1, 1944, soldiers of the special unit Kedyw of the Home Army Headquarters "Pegaz" (later "Parasol") executed the sentence issued by the authorities of the Polish Underground State on Franz Kutschera, SS and Police commander for the Warsaw district General Government. Franz Kutschera, known as the "executioner of Warsaw", was known for his cruelty. He organized numerous round-ups, executions and transports of Varsovians to concentration camps.
In retaliation for Kutschera's death, the Germans carried out numerous executions, in which about 300 people died. Despite the German retaliation, the action was considered a success because the German terror weakened and the occupier abandoned public executions. A clear signal was sent to the Germans – none of them could feel safe in the General Government.
Anna Wiejak
Source: IPN